A Visit to the Saatchi Gallery: London, England
October 2003
Angel- Ron Mueck
London is a great place to spend an afternoon or a week of afternoons, especially for art lovers. With a few hours to kill before an evening play, I elected to visit the Saatchi gallery, an new art gallery located next to the London Eye in the old County Hall on the Thames.
Why people pay to see stacks of dead rats, sliced-open cows in formaldehyde, and swarms of flies on a rotting cow's head is a fascinating question; that is exactly what they see in the Saatchi Gallery. I suppose the reason I paid the 8 pounds, when just down the river I could have revisited the magnificent Tate Modern for free, was that I wanted to see if this was as bad as it sounded. It was worse.
Saatchi, who became a patron of an (art?) movement known as the YBA, Young British Artists, heavily supporting and promoting some of the artists, has now housed his collection in 40,000 square feet of prime real estate next to the London Eye on the Thames. If you ever had the slightest hesitation about modern art, then this one will send you into orbit. The elephant- shit, black, Virgin Mary; Dead Dad; Unmade Bed; and Myra Myra on the Wall, are some of the "better" works housed here. I can't believe this stuff will outlive Saatchi, and much of it will surely be trashed eventually, even with original price tags of tens of thousands of dollars.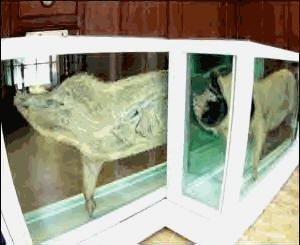 A sliced-in-half pig-Damian Hirst
I can't imagine why anyone even wants to consider Damian Hirst's work worthy of a place in a gallery. I find it hard to imagine this stuff being supported by anyone who didn't buy it at the beginning; you will never see it hanging on a friend's wall or even in a bank. Formaldehyde-filled glass boxes house the sliced up carcasses of various types of animals, sheep, pigs, cows, and even a shark. Shown here is a pig sliced in half and mounted in two boxes that can slide apart to expose the inside of the animal. Who really wants to look at this? Yuk!
One of the gallery exits sports Damian Hirst's spotted car, shown here on its way down the entry stairs. He did several things here with spots as well as with spin art. One of his large spin art pieces is named "Kiss my fucking ass". Give me a break. Apparently Elton John bought one of these for something like a hundred grand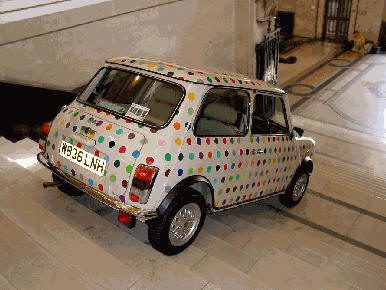 Spotted car-Damian Hirst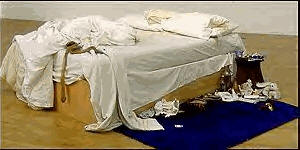 Unmade Bed-Tracey Emin
Maybe more significant (as modern art goes) is Tracy Emin's "Unmade Bed". That's right! An unmade bed! At least the bed attempts to tell some kind of story. It is surrounded by some more or less disgusting stuff, an old pack of condoms, dirty panties, cigarette butts, and so on. On one unexpected occasion an oriental artist stripped off his clothes and jumped up and down on it as a follow up work of "performance art".
The black Madonna is more of a real artwork, even though it did stir up an awful mess when displayed in the New York Gallery of Modern Art. It pissed off Mayor Guliani so bad that he cut off city funding of the gallery and made galleries reexamine how they fund art shows. At least it does involve some delicate craftwork, painting, and its own special style, although having a big elephant turd hanging on it didn't go over very well with the Christians, not to mention the fact that she was black. The artist claimed that in his culture, elephant dung signifies honor and respect. Damian Hirst commented that every time Mayor Guliani opened his mouth about the art he could add a zero to his prices.
Another rather clever painting in the Saatchi, "Myra Myra on the Wall" stirred up even more angst in England. The painting is a floor to ceiling portrait of Myra Hindley, an infamous child killer. People were upset that she should have a portrait in public. What makes the picture especially interesting is that a close inspection shows it to be a composite from the handprints of children, contrasting evil with innocence. This portrait made the artist so famous that one can imagine her next piece could be a portrait of Hitler made of Jewish faces.
The gallery does have considerable work of artists who seem more lasting to me, such as Dwayne Hanson's sculptures, which represent, with lifelike reality, common people. These sculptures sit around on the gallery floor and in the halls, and if one did not know of Dwayne Hanson, one could actually mistake them for real people. In that sense they are very effective here. Seeing a typical tourist sitting on the hall floor with his camera caused me to look twice before I finally realized it was a sculpture.
Now for the 64 thousand dollar question. Would I recommend that you visit the Saatchi Gallery? And it is a tough question. London has at least a dozen world class art galleries, including a Dali Gallery next door to the Saatchi, the Tate Modern a short walk away, and the Tate Britain, which can be reached from the Tate Modern on the Tate to Tate boat cruise. If you want an insight into the YBA movement, you get an overdose here, but unless you have time on your hands and a love for the macabre do other galleries first, starting with the National Gallery. This, however, is like telling someone not to hold up traffic by gawking at an accident on the freeway.